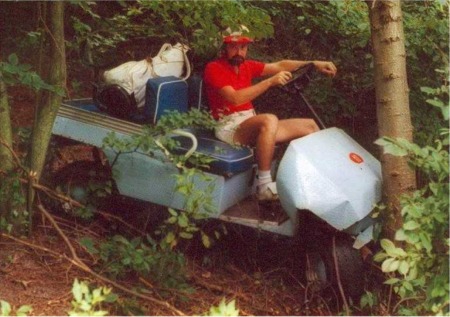 You drive for show and you putt for dough

This picture illustrates that if you really drive for show you may not get the chance to putt.

The successful people that I aspire to be like, laugh often and have no problem laughing at themselves.

My friend Steve will enjoy this picture.  After playing a memorable round of golf a Chateau Whistler he started calling me Indy.  Is it because I play quickly? No.  According to him, as a golfer I have seen more jungle than Indiana Jones.

To my friends in the golf world, I assure you that I was not driving this cart.  The unfortunate driver went over a ravine at a club near London, Ontario, Canada and came to an abrupt stop as illustrated.  Steve and I just couldn't resist taking advantage of the photo opportunity.

Humor is an attitude.  It's a way of looking at life and of telling others how you feel about what's happening around you.        

Gene Perret



This website is being developed and maintained by: